No creepy collection is complete without the Creepy Cute Crochet Book. This book is full of monsters, robots and ninjas. I've actually gotten to use this book, and I would totally recommend it.
If you don't know how to crochet already it gives good, understandable, instructions for all the stitches you need to know. Not only does it use written instructions in the patterns but also charts and diagrams to make everything extra clear. Don't know how to read any of that? It explains that too. This is a good book to get if your just starting crocheting or pattern reading but you don't want to do some lame-o scarf. (Don't get me wrong, I'm a sucker for scarves, just not beginner scarves)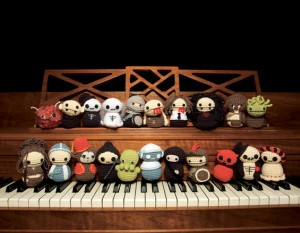 For about $10 you get 21 adorable patterns. You can order it on amazon,
here
. And think of the armies you could create!! Ninja armies! Zombie armies! Gladiator armies! Skeleton armies! Just think of all the armies!!! So many, many possibilities!
ORDER IT NOW!! I COMMAND YOU!! BUILD YOUR GLORIOUS EMPIRE! (and send me pictures, I wanna see)
See back here tomorrow for more of Monster Week.